Hi there,
I have some questions about network design regarding OSPF and firewalling. I have created a map with my current setup for a better understanding.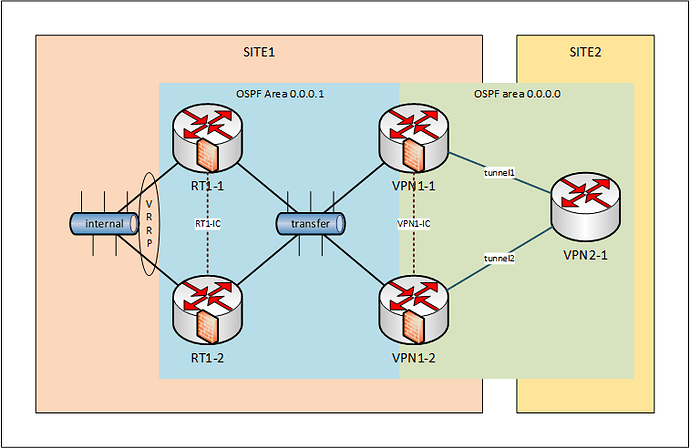 All router (RT1-x) and VPN (VPN1-x) devices on SITE1 are VMs running VyOS 1.4. Routing/OSPF is working fine so far, I can reach all resources on both sites. There are two devices/VMs of each type for redundancy. If one VM goes down traffic flow will continue undisturbed.
In the next step I want to enable zone-based firewalling mainly on the RT1-x devices as this are the core routers for SITE1 and with a basic ruleset the VPN1-x devices as well.
I had set up two "interconnect links" (IC) between the devices for redundancy. I thought it was important for the VPN1-x devices in case a tunnel goes down. I am not sure if I really need this IC links as they make setting up the firewall rules more complicated. I think I can remove the RT1-IC link as both RT1-x routers have the transfer network for OSPF communication (broadcast mode).
I am not sure if I need the VPN1-IC link as well. I had created this link in case a tunnel goes down so that the VPN1-x devices on SITE1 can still see each other.
Getting rid of both interconnect (IC) links would make the setup of zone-based firewall rules much more easier and less complicated. I could use the very same rulesets on both partner devices (e.g. on RT1-1 and RT1-2) and I would not have to take care of traffic beeing routed through the IC link.
As I am new to OSPF, any suggestions and recommendations are appreciated.
Thanks a lot.
Lars