TOPOLOGY is correct - Except I deleted the Firewall and now am connecting directly to the MPLS labeled Router.
I have a small topology of three routers in area 0 and they connect to a Internet cloud connected router.
I am able to ping all the interfaces of the Internet connected router from the directly connected TS-Core router in Area1 but all the other two routers cannot ping any of the interfaces. Yet OSPF is advertising the 10.1.0.0/29 network that connects TS-Core and the edge router. I cannot ping 8.8.8.8 from any router except TS-Core and the edge router. I have default-originate command on the TS-core advertising the default route through its outbound interface 10.1.0.2.
Here are the configs:
TS-Core:
vyos@vyos:~$ ping 8.8.8.8
PING 8.8.8.8 (8.8.8.8) 56(84) bytes of data.
64 bytes from 8.8.8.8: icmp_seq=1 ttl=113 time=11.1 ms
64 bytes from 8.8.8.8: icmp_seq=2 ttl=113 time=9.81 ms
64 bytes from 8.8.8.8: icmp_seq=3 ttl=113 time=8.72 ms
^C
--- 8.8.8.8 ping statistics ---
3 packets transmitted, 3 received, 0% packet loss, time 2003ms
rtt min/avg/max/mdev = 8.720/9.867/11.067/0.958 ms
vyos@vyos:~$ show ip route
Codes: K - kernel route, C - connected, S - static, R - RIP,
       O - OSPF, I - IS-IS, B - BGP, E - EIGRP, N - NHRP,
       T - Table, v - VNC, V - VNC-Direct, A - Babel, F - PBR,
       f - OpenFabric,
       > - selected route, * - FIB route, q - queued, r - rejected, b - backup
       t - trapped, o - offload failure

S>* 0.0.0.0/0 [1/0] via 10.1.0.1, eth0, weight 1, 00:44:10
O   1.1.1.1/32 [110/0] is directly connected, lo, weight 1, 04:15:06
C>* 1.1.1.1/32 is directly connected, lo, 04:42:12
O>* 2.2.2.2/32 [110/1] via 10.2.1.2, eth1, weight 1, 04:02:55
O>* 3.3.3.3/32 [110/1] via 10.2.2.2, eth3, weight 1, 04:08:11
O   10.0.0.0/29 [110/1] is directly connected, eth5, weight 1, 04:15:06
C>* 10.0.0.0/29 is directly connected, eth5, 04:41:08
O   10.1.0.0/29 [110/1] is directly connected, eth0, weight 1, 01:20:46
S   10.1.0.0/29 [1/0] via 10.1.0.1 inactive, weight 1, 01:20:46
C>* 10.1.0.0/29 is directly connected, eth0, 01:20:46
O   10.2.1.0/29 [110/1] is directly connected, eth1, weight 1, 04:08:12
C>* 10.2.1.0/29 is directly connected, eth1, 04:29:01
O   10.2.2.0/29 [110/1] is directly connected, eth3, weight 1, 04:08:11
C>* 10.2.2.0/29 is directly connected, eth3, 04:36:24
O>* 10.2.3.0/29 [110/2] via 10.2.1.2, eth1, weight 1, 04:08:11
  *                     via 10.2.2.2, eth3, weight 1, 04:08:11
vyos@vyos:~$ show config
interfaces {
    ethernet eth0 {
        address 10.1.0.2/29
        hw-id 0c:d2:52:06:00:00
    }
    ethernet eth1 {
        address 10.2.1.1/29
        hw-id 0c:d2:52:06:00:01
    }
    ethernet eth2 {
        hw-id 0c:d2:52:06:00:02
    }
    ethernet eth3 {
        address 10.2.2.1/29
        hw-id 0c:d2:52:06:00:03
    }
    ethernet eth4 {
        hw-id 0c:d2:52:06:00:04
    }
    ethernet eth5 {
        address 10.0.0.1/29
        description "Admin Tool Server"
        hw-id 0c:d2:52:06:00:05
    }
    ethernet eth6 {
        hw-id 0c:d2:52:06:00:06
    }
    ethernet eth7 {
    }
    loopback lo {
        address 1.1.1.1/32
    }
}
protocols {
    ospf {
        area 0 {
            network 1.1.1.1/32
            network 10.2.2.0/24
            network 10.0.0.0/24
            network 10.1.0.0/24
            network 10.2.1.0/24
            network 10.2.1.0/29
            network 10.1.0.0/29
            network 10.0.0.0/29
            network 10.2.2.0/29
        }
        area 0.0.0.0 {
            network 10.1.0.0/29
            network 10.2.1.0/29
            network 10.2.2.0/29
        }
        default-information {
            originate {
            }
        }
        parameters {
            router-id 1.1.1.1
        }
        redistribute {
            connected {
            }
        }
    }
    static {
        route 0.0.0.0/0 {
            next-hop 10.1.0.1 {
            }
        }
        route 10.1.0.0/29 {
            next-hop 10.1.0.1 {
            }
        }
    }
}
system {
    config-management {
        commit-revisions 100
    }
    conntrack {
        modules {
            ftp
            h323
            nfs
            pptp
            sip
            sqlnet
            tftp
        }
    }
    console {
        device ttyS0 {
            speed 115200
        }
    }
    host-name vyos
    login {
        user vyos {
            authentication {
                encrypted-password ****************
                plaintext-password ****************
            }
        }
    }
    ntp {
        server time1.vyos.net {
        }
        server time2.vyos.net {
        }
        server time3.vyos.net {
        }
    }
    syslog {
        global {
            facility all {
                level info
            }
            facility protocols {
                level debug
            }
        }
    }
}

TS-ACCESS1
vyos@vyos:~$ show ip route
Codes: K - kernel route, C - connected, S - static, R - RIP,
       O - OSPF, I - IS-IS, B - BGP, E - EIGRP, N - NHRP,
       T - Table, v - VNC, V - VNC-Direct, A - Babel, F - PBR,
       f - OpenFabric,
       > - selected route, * - FIB route, q - queued, r - rejected, b - backup
       t - trapped, o - offload failure

O>* 0.0.0.0/0 [110/10] via 10.2.1.1, eth1, weight 1, 00:46:31
O>* 1.1.1.1/32 [110/1] via 10.2.1.1, eth1, weight 1, 04:17:21
O   2.2.2.2/32 [110/0] is directly connected, lo, weight 1, 04:05:16
C>* 2.2.2.2/32 is directly connected, lo, 04:44:32
O>* 3.3.3.3/32 [110/1] via 10.2.3.2, eth5, weight 1, 04:24:25
O>* 10.0.0.0/29 [110/2] via 10.2.1.1, eth1, weight 1, 04:17:21
O>* 10.1.0.0/29 [110/2] via 10.2.1.1, eth1, weight 1, 01:23:07
O   10.2.1.0/29 [110/1] is directly connected, eth1, weight 1, 04:33:52
C>* 10.2.1.0/29 is directly connected, eth1, 04:33:53
O>* 10.2.2.0/29 [110/2] via 10.2.1.1, eth1, weight 1, 04:24:25
  *                     via 10.2.3.2, eth5, weight 1, 04:24:25
O   10.2.3.0/29 [110/1] is directly connected, eth5, weight 1, 04:33:52
C>* 10.2.3.0/29 is directly connected, eth5, 04:33:52
vyos@vyos:~$ show config
interfaces {
    ethernet eth0 {
        hw-id 0c:aa:b4:8a:00:00
    }
    ethernet eth1 {
        address 10.2.1.2/29
        hw-id 0c:aa:b4:8a:00:01
    }
    ethernet eth2 {
        hw-id 0c:aa:b4:8a:00:02
    }
    ethernet eth3 {
        hw-id 0c:aa:b4:8a:00:03
    }
    ethernet eth4 {
        hw-id 0c:aa:b4:8a:00:04
    }
    ethernet eth5 {
        address 10.2.3.1/29
        hw-id 0c:aa:b4:8a:00:05
    }
    ethernet eth6 {
        hw-id 0c:aa:b4:8a:00:06
    }
    ethernet eth7 {
        hw-id 0c:aa:b4:8a:00:07
    }
    loopback lo {
        address 2.2.2.2/32
    }
}
protocols {
    ospf {
        area 0 {
            network 2.2.2.2/32
            network 10.2.1.2/32
            network 10.2.3.0/29
            network 10.5.0.0/24
            network 10.3.0.0/29
        }
        area 0.0.0.0 {
            network 10.2.1.0/29
            network 10.2.3.0/29
        }
        parameters {
            router-id 2.2.2.2
        }
    }
    static {
        route 0.0.0.0/0 {
        }
    }
}
system {
    config-management {
        commit-revisions 100
    }
    conntrack {
        modules {
            ftp
            h323
            nfs
            pptp
            sip
            sqlnet
            tftp
        }
    }
    console {
        device ttyS0 {
            speed 115200
        }
    }
    host-name vyos
    login {
        user vyos {
            authentication {
                encrypted-password ****************
                plaintext-password ****************
            }
        }
    }
    ntp {
        server time1.vyos.net {
        }
        server time2.vyos.net {
        }
        server time3.vyos.net {
        }
    }
    syslog {
        global {
            facility all {
                level info
            }
            facility protocols {
                level debug
            }
        }
    }
}
vyos@vyos:~$

TS-ACCESSS2
vyos@vyos:~$ show ip route
Codes: K - kernel route, C - connected, S - static, R - RIP,
       O - OSPF, I - IS-IS, B - BGP, E - EIGRP, N - NHRP,
       T - Table, v - VNC, V - VNC-Direct, A - Babel, F - PBR,
       f - OpenFabric,
       > - selected route, * - FIB route, q - queued, r - rejected, b - backup
       t - trapped, o - offload failure

O   0.0.0.0/0 [110/10] via 10.2.2.1, eth3, weight 1, 00:47:49
S>* 0.0.0.0/0 [1/0] via 10.2.2.1, eth3, weight 1, 04:25:52
O>* 1.1.1.1/32 [110/1] via 10.2.2.1, eth3, weight 1, 04:18:39
O>* 2.2.2.2/32 [110/1] via 10.2.3.1, eth5, weight 1, 04:06:33
O   3.3.3.3/32 [110/0] is directly connected, lo, weight 1, 04:45:43
C>* 3.3.3.3/32 is directly connected, lo, 04:45:51
O>* 10.0.0.0/29 [110/2] via 10.2.2.1, eth3, weight 1, 04:18:39
O>* 10.1.0.0/29 [110/2] via 10.2.2.1, eth3, weight 1, 01:24:25
O>* 10.2.1.0/29 [110/2] via 10.2.2.1, eth3, weight 1, 04:25:41
  *                     via 10.2.3.1, eth5, weight 1, 04:25:41
O   10.2.2.0/29 [110/1] is directly connected, eth3, weight 1, 04:25:52
C>* 10.2.2.0/29 is directly connected, eth3, 04:25:52
O   10.2.3.0/29 [110/1] is directly connected, eth5, weight 1, 04:25:52
C>* 10.2.3.0/29 is directly connected, eth5, 04:25:52
vyos@vyos:~$ show config
interfaces {
    ethernet eth0 {
        hw-id 0c:0c:13:c2:00:00
    }
    ethernet eth1 {
        hw-id 0c:0c:13:c2:00:01
    }
    ethernet eth2 {
        hw-id 0c:0c:13:c2:00:02
    }
    ethernet eth3 {
        address 10.2.2.2/29
        hw-id 0c:0c:13:c2:00:03
    }
    ethernet eth4 {
        hw-id 0c:0c:13:c2:00:04
    }
    ethernet eth5 {
        address 10.2.3.2/29
        hw-id 0c:0c:13:c2:00:05
    }
    ethernet eth6 {
        hw-id 0c:0c:13:c2:00:06
    }
    ethernet eth7 {
        hw-id 0c:0c:13:c2:00:07
    }
    loopback lo {
        address 3.3.3.3/32
    }
}
protocols {
    ospf {
        area 0 {
            network 0.0.0.0/0
            network 3.3.3.3/32
            network 10.2.3.2/32
            network 10.2.2.2/32
            network 10.5.0.0/24
        }
        area 0.0.0.0 {
            network 10.2.2.0/29
            network 10.2.3.0/29
        }
        parameters {
            router-id 3.3.3.3
        }
    }
    static {
        route 0.0.0.0/0 {
            next-hop 10.2.2.1 {
            }
        }
    }
}
system {
    config-management {
        commit-revisions 100
    }
    conntrack {
        modules {
            ftp
            h323
            nfs
            pptp
            sip
            sqlnet
            tftp
        }
    }
    console {
        device ttyS0 {
            speed 115200
        }
    }
    host-name vyos
    login {
        user vyos {
            authentication {
                encrypted-password ****************
                plaintext-password ****************
            }
        }
    }
    ntp {
        server time1.vyos.net {
        }
        server time2.vyos.net {
        }
        server time3.vyos.net {
        }
    }
    syslog {
        global {
            facility all {
                level info
            }
            facility protocols {
                level debug
            }
        }
    }
}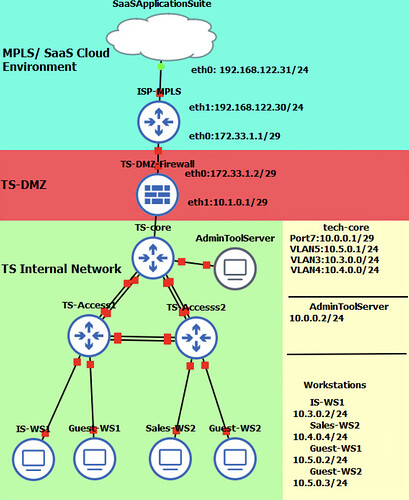 MOD EDIT: I have put code statements around your configs to make the post more readable - @tjh