Hi folks,
I'm having a confusing problem trying to configure an IPv6 tunnel from hurricane electric. It looks like the syntax has changed from this config example: https://docs.vyos.io/en/latest/configexamples/tunnelbroker-ipv6.html#examples-tunnelbroker-ipv6
I can't show you what the original text is as I'm a new user and it's being interpreted as a link.
I translated it to: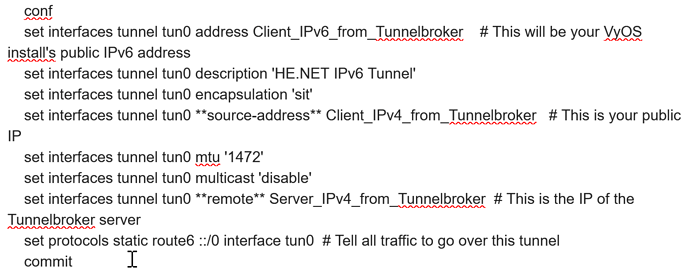 But when I do that, I lose ipv4 connectivity.
vyos@vyos# ping google_dns_as_ip
connect: Network is unreachable
I can't ping through the tunnel either. I have this box set up behind pfSense, and as you'd expect no packets are making it off vyos.
(Sorry about the text as pictures, it was being interpreted as links and I was not allowed to post as a new user)
Thoughts?
thanks,
Chris