Hello,
I've been trying to solve an issue where my VyOS router is not performing well when sending a high amount of UDP packets.
My scenario looks like this:
Sender uses a C script to send UDP packets with a payload size of 64 bytes. Source: 10.0.0.10, Destination: 10.0.1.10:4321.
Receiver also uses a C script to listen on port 4321 for incoming UDP packets.
In between there's a VyOS router that forwards these packets.
Script: dump/how-to-receive-a-million-packets at master · majek/dump · GitHub
Even sending 600k pkt/s VyOS receives only 400k pkt/s. I can scale it up to 2M but the result is the same, VyOS is not able to forward about 20% of the packets. Also, there's a huge increase in rx_no_dma_resources errors and fdir_miss(even tho there are no flow director rules enabled, and fdir_miss only increases when using UDP) If I remove the route to destination and scale up the pkt/s to 2M then there's no loss(bonding the interface helped with this).
VyOS version is 1.3
VyOS is using 10G Intel 82599ES NICs with the latest driver version.
Bond mode 802.3ad. Tried to disable the bond and use single interfaces, same results.
Increased ring buffers to 4096 ethtool: -G rx 4096 tx 4096
Disabled flow control: ethtool -A autoneg off rx off tx off
Disabled lro: ethtool -K lro off
Turning off any interrupt limitations: ethtool -C rx-usecs 0
RSS enabled
CPU: E5-2680 v4
Disabled Hyperthreading
Enabled/Disabled irqbalance
Using custom affinity scripts found in here: ixgbe/set_irq_affinity at master · majek/ixgbe · GitHub
Some sysctl parameters:
net.ipv4.udp_mem = 11416320 15221760 22832640
net.ipv4.udp_rmem_min = 16384
net.ipv4.udp_wmem_min = 16384
net.core.default_qdisc = fq
net.core.netdev_max_backlog = 250000
net.core.netdev_budget = 1024
Topology looks like this: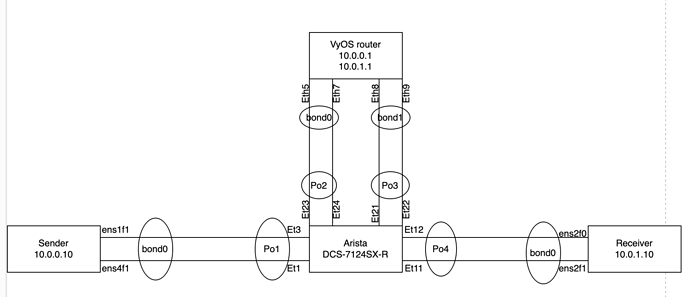 Has anyone had similar issues? Any advice on troubleshooting?