Hi,
I have two Vyos vm running under VMware 8.0 U2 but the vm hardware is much older.
My version is VyOS 1.4-rolling-202310030309
see screenshot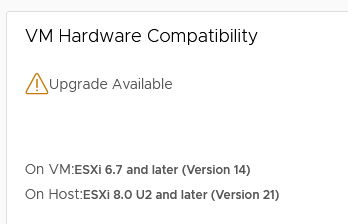 if I upgrade now to the latest hardware version, the system breaks. Linux renamed the network cards to eth2/eth3 any idea for this issue?
I found this but how react Vyos of this?
https://rigacci.org/wiki/doku.php/doc/appunti/linux/sa/if_rename