Hi there,
Surprisingly for a few, I was still running 1.2 RC11 and have yesterday upgraded my router to 1.3 RC1 which went smoothly.
I'm using the exact configuration and have done 0 changes to it.
However, while testing, I've noticed a big performance regression on 1.3 compared to 1.2.
While doing a Speedtest (speedtest.net) I'm having a lot higher CPU usage on the download phase, resulting in the router not even hitting 1Gbit/s.
Here is my test with 1.3 RC1
Speedtest by Ookla - The Global Broadband Speed Test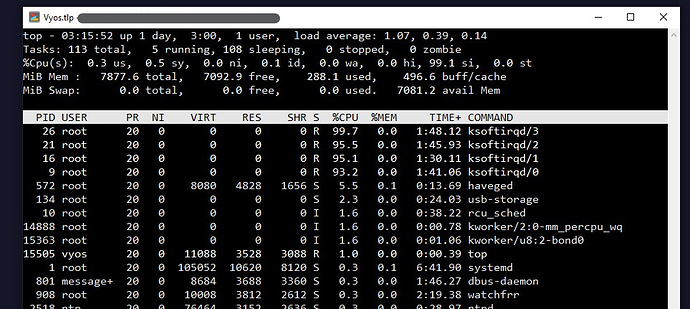 Then I switched the image back to 1.2 RC11
Speedtest by Ookla - The Global Broadband Speed Test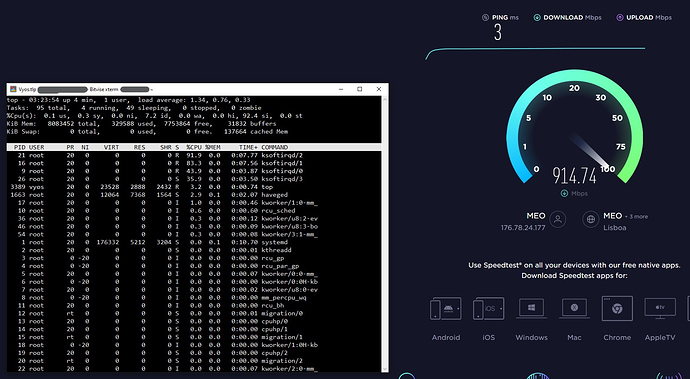 As you can see, what I think to be the interrupts for the NIC (ksoftirqd) have a much higher CPU usage on 1.3, resulting on Vyos reaching only around 690Mbit/s download from the internet.
While on 1.2, there is CPU performance to spare and I can do easily 920Mbit/s (essentially maxing out 1Gbit, has a lower result due to overhead).
I'm calling this a performance regression mostly because it's using the exact configuration from version 1.2 to 1.3 results on a CPU usage increase of almost double.
My router is using a Intel Celeron N3150 with an Intel ET2 quad port NIC.